Let's Get Started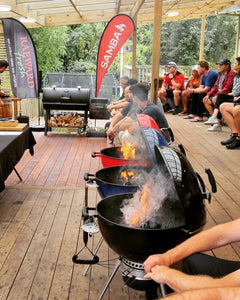 MasterClass
Join us for a full day, immersive, hands-on, MasterClass in sunny Nelson. Everything we cook, we eat, so come ready to have some fun, full of knowledge and a whole lot of BBQ!
MasterClass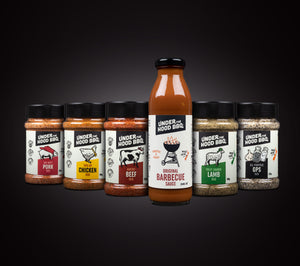 Under the Hood Barbecue Sauce & Seasonings
This liquid thriller is our very own signature Barbecue sauce that goes well with everything! Now we have dry rub seasonings ready to roll too!
Buy NOW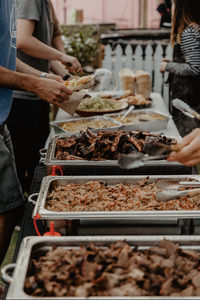 BBQ Catering
We love to feed people some of the best food they'll ever have. So no matter what your occasion, why not get us to take care of the details and give you a feed you'll be telling your grandkids about!
BBQ Catering
Our Happy Customers with Full Bellies Say...
These guys really know how to achieve melt in your mouth bbq meat! I absolutely recommend them!👌🏻

Jess Connolly
Best cooked meat I've ever tasted.

Kirkcandice Hurrenwaho
Brilliant seasoning and flavouring all through the meat, cooked to absolute perfection by a skilled BBQ exponent. Next level stuff, highly recommend...

Justin Eade
Had a delicious meal last night. The presentation by the chef was so interesting and the meat delicious. Would definitely recommend this way of entertaining. Just superb. 👍👍👍

Marian Fraser
Beautifully cooked meat, melt in your mouth sort of stuff, and there homemade sauce is something else, Dave knows his stuff. Thank you Under the Hood BBQ 🙌🏽🙌🏽

Hoani Tia Takao
About Us
Dave and Michelle King
Welcome to Under the Hood BBQ! We are Dave and Michelle King, and together we run our family business based in Nelson, New Zealand. Our company has been forged out of our own passion for low & slow BBQ goodness. Our ever growing outdoor BBQ kitchen allows us to do what we love - to inspire, feed and educate.
We truly believe that food brings people together, so whatever you eat, make it good. Our recipes are tried and true and we love to share our passion as we make and create food. In fact, we would love for you to join us online each day and follow our cooking journey on Instagram and Facebook and become part of the BBQ family.
If you are thinking about attempting the low and slow game yourself, our instagram page has how-to tutorials on exactly how to get amazing results at home, or why not go the whole way and book yourself into a MasterClass here in sunny Nelson.
Send us an email!